5k Cider Run
Join us on 11/03/2021
(race date estimated)
5k Cider Run Race Description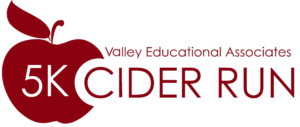 Valley Educational Associates has its annual fundraiser, The 5k Cider Run, each year in November. It is a great time to run (or walk) the Ashley Reservoir with family and friends while supporting programs and workshops for adults with developmental disabilities. Your registration and donations stay right here in the local community and 81% of your donation goes directly back into the programs. The 5k Cider Run offers cider donuts, apple cider, a light repas, cash raffles, coupons from local businesses, a timed race, and a kid's fun run. In 2017, we had a record number of participants- 203!
5k Cider Run Where & When

Location:

Holyoke

,

MA 01040

Race Date:

2018/11/03 10:00:00 AM (Saturday)

Categories:

5k Cider Run (and 2 Mile Walk)
Other Races You May Want to Consider
5k Cider Run Restaurants & Activities
Below are some of the highest rated restaurants in Holyoke as well as the highest rated activities in Holyoke. Extend your experience with all Holyoke has to offer.
Join us at the 5k Cider Run in November for a great race. The 5k Cider Run works hard to deliver you a memorable race experience. We would love to hear from you, so consider writing us a review or contact us at: DucheneyVEA@yahoo.com
Contact Information
Name:
Email:
DucheneyVEA@yahoo.com
Website: