Funny Bunny 5K-9
Join us on 04/02/2022
(race date estimated)
Funny Bunny 5K-9 Race Description
Date/Time 04/02/2016 09:00 AM
Location Unity Village
Address 1901 NW Blue Parkway
Unity Village, Missouri 64065
Event Details:
7:00-8:30a Check-In for Funny Bunny 5K
9:00a 5K Run & 1M Fun Walk
9:30-10:30a Check-In for Egg Hunts
11:00a Egg Hunt for Autism Kids
11:30a Egg Hunt for DOGS

Resource Fair – AUTISM + KIDS+ DOGS 8a-12p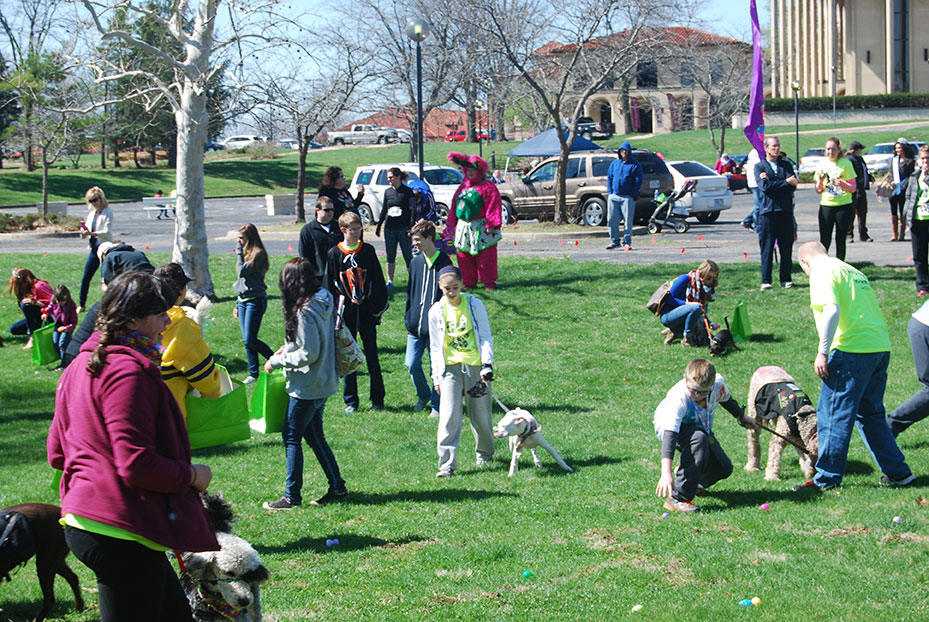 Funny Bunny 5K-9 2015 - Egg Hunt for Dogs
Paws 4 Autism is 100% Volunteer and grassroots-driven. The organization has demonstrated sustained growth since our creation in 2010, and, consistent with its mission and purpose has, and continues to provide a needed service to not only the autism families we serve, but also to the community at large through our social skills and school programs.
Our continued commitment to serve youth in the autism community drives this organization to provide every opportunity to foster and encourage each participant and volunteer to help increase autism awareness and support for the community at large.
Funds raised from this event will go towards our Train the Trainers Program. Our Train the Trainers Program allows youth who have been diagnosed as falling within the autism spectrum to attain more compressive skill sets, while helping to train autism service dogs for youth in an expanded regional area at a reduced cost while also providing the opportunity to learn both job and social skills, thus increasing their long term employability.
ALL proceeds STAY LOCAL.
For more information on Paws 4 Autism, please visit www.paws4autism.org

PACKET PICKUP IS MARCH 31ST 4P-7P AT THE RUNNING WELL STORE IN LEES SUMMIT
Funny Bunny 5K-9 Where & When

Location:

Unity Village

,

MO 64065

Race Date:

2016/04/02 09:00:00 AM (Saturday)

Categories:
Other Races You May Want to Consider
Unity Village, MO Weather
Funny Bunny 5K-9 weather history
Based on a 5 year average and a race date of April 2nd, Unity Village, MO can expect temperatures between 43℉ and 55℉ with humidity around 64% and precipitation of 0.16".
Last year the weather condition was Cloudy.
Unity Village, MO current weather
85.3℉

Clear
Join us at the Funny Bunny 5K-9 in April for a great race. The Funny Bunny 5K-9 works hard to deliver you a memorable race experience. We would love to hear from you, so consider writing us a review or contact us at: terri@paws4autism.org
Contact Information
Name:
Email:
terri@paws4autism.org
Website: